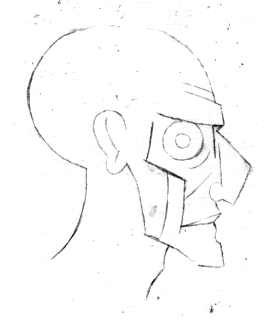 THIS IS CLEARLY OVERLABOURED
HOW DO I STOP DOING THIS
seriously I can't find the right amount of attention to devote to this either i work too much on it and it looks strained and overwraught or I work too little on it and it looks half-assed. I don't know what I want anything to look like.
EDIT:
IM TIRED OF MAKING NEW POSTS SO I'M EDITING THIS ONE
FIRST TRY AT 11 SECONDS CLUB (THIS MONTHS AUDIO TRACK)
this is my first go at doing some super simple lip sync to this month's "Eleven Seconds Club" (
here
) - a little online community that picks a random 11 seconds of dialogue for people to animate some character animation to. The best entry is voted for and is awarded some sort of prize or other.
I'd suggest going there and having a look at the previous winners if you haven't seen them, there's a lot of really simple but inspiring stuff there.
the soundtrack from this is from Mr Smith Goes To Washington, which is one of my favourite films anyway. I know it's really simple right now but I just wanted to experiment with some stretchy mouth and jaw motion that I didn't attempt for my last lip sync project. Does anyone have any tips for making fast speech not appear garbled? I know that it's overanimated but I don't know what I should cut out to make it visually read better.
The speech still doesn't quite seem in time, too, which I think is partially down to the .swf compression and partially down to me being pretty bad at dope-sheeting speech.